Words that Heal Series:
How Did We Do It?
By: Wambra Medio Digital Comunitario @wambraec

 In partnership with Belen Febres-Cordero and the women who participated in the creation of this series
English Version Published on December 13, 2021
Reading time: 2 minutes

Those of us who participated in the creation of this journalistic series of feature stories are very different from each other in multiple ways. Yet, we have something in common: we are all women who came to Quito from different parts of Ecuador, or we were born in Quito, but our families migrated to the capital city from other places within the country.
As such, this series contains the voices of 59 women between the ages of 19 and 71 with roots in 17 of the 24 provinces of Ecuador and three of the country's four regions. The convergence of people with such diverse backgrounds allowed us to assemble an incredible array of lived experiences and perspectives.
To share our experiences, we met in virtual and in-person interviews and gatherings.
There were no right or wrong answers in these spaces that we created together. No opinion weighed more than another either; quite the opposite, we valued all life experiences equally because we know that our differences nourish and complement us. The convergence between our varied backgrounds, ages, and languages allowed us to combine multiple positions and to weave together heterogeneous stories and insights.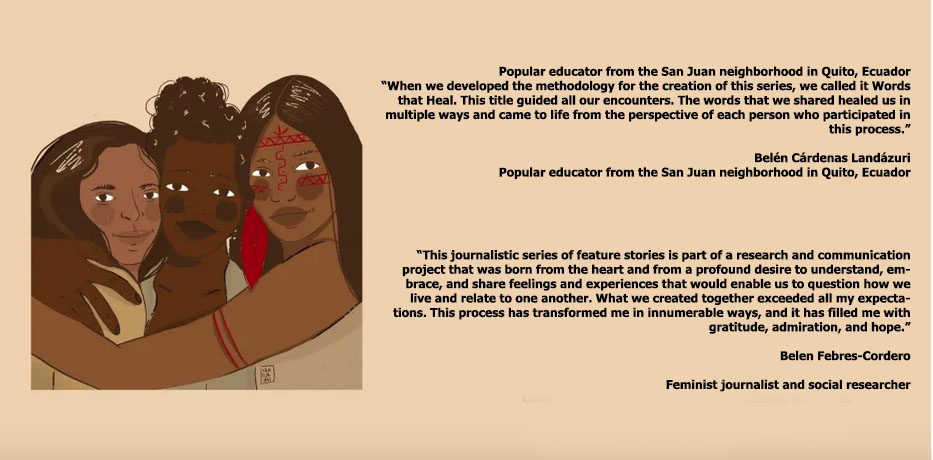 We wrote this series based on what we shared during our encounters and on conversations with health and migration experts who provided crucial contextual information. All drafts were reviewed, modified, and approved by each one of us and by the staff of Wambra Medio Digital Comunitario.
Because we resent the fact that others have aimed to impose their ways to call and define us, we chose how we wanted to be named and identified throughout this process, including the dissemination of our stories.
We were then joined by those who collaborated in the production and post-production of this series. In total, more than 100 people contributed to this collective initiative, which seeks to bring together diverse experiences and challenge existing dichotomies, divisions, and hierarchies.  Together, we suggest alternatives of well-being and health that could start tracing paths towards more wholesome relationships with ourselves, our surroundings, and each other.