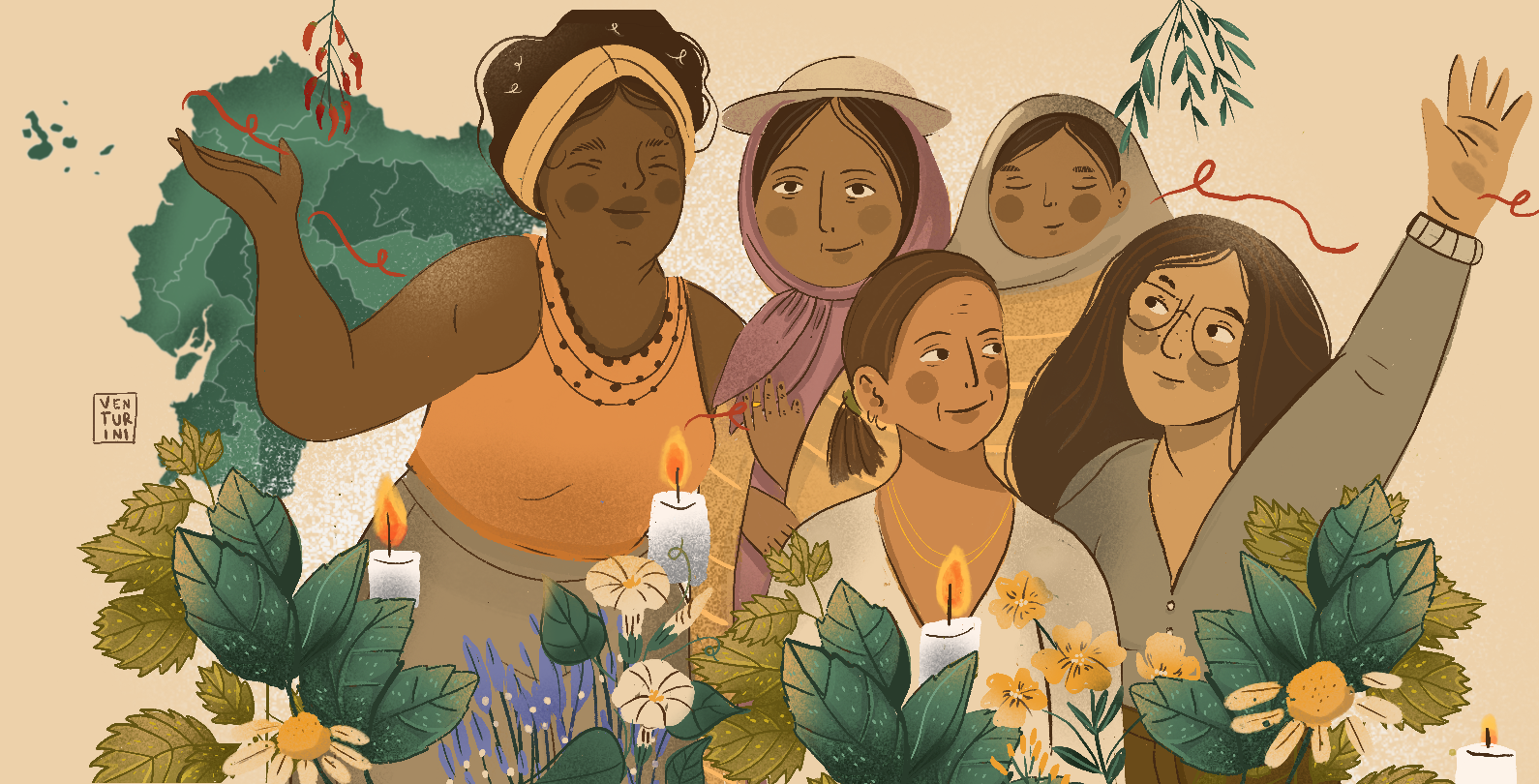 The Reasons Behind Words that Heal
By: Wambra Medio Digital Comunitario 
 In partnership with Belen Febres-Cordero and the women who participated in the creation of this series
English Version Published on December 15, 2021
Reading time: 16 minutes

Words that Heal is a journalistic series of feature stories that explores alternative experiences and sensations of well-being and health with 59 women who migrated to Quito from other parts of Ecuador, or whose families did so. Together, we extend an invitation to question, reinvent, and reclaim the value and meaning of well-being, health, and life.
Xavier Maldonado, a teaching physician at Central University of Ecuador and the coordinator of the Latin American Association of Social Medicine (ALAMES) in Ecuador, explains that the meanings we give to well-being and health are not unique or static. Instead, how we frame these concepts is constantly changing along with each era's ideological, historical, and political context. He adds that although there are theoretical models to explain these concepts that become predominant over time and across places, there are multiple ways to define and address well-being and health that exist simultaneously. 
Xavier points out that the ways in which we define these concepts are extremely important, as they shape the actions that we take to achieve healthy societies. In other words, how we understand well-being and health determines, to a great extent, how we live in practice. 
The Definition of Well-being 
Erika Arteaga Cruz, medical coordinator of the Environmental Network of the Latin American Association of Social Medicine (ALAMES) in Ecuador, explains that the current understanding of the concept of well-being in the West has been strongly influenced by the Development Model. 
In her article, "Living Well (Sumak Kawsay): Definitions, Criticism, and Implications in Development Planning in Ecuador", Erika writes that 'development' is a concept related to the quality of life, well-being, health, and happiness that might be achieved by following certain actions. The Development Model states that the steps that lead to well-being, health, and happiness are mainly economic growth and technological advancement. 
However, this model has been critiqued from different places, arguing that it can cause multiple disadvantages, especially to those communities on the peripheries. Some of the main challenges related to this model that have been identified are pollution and environmental destruction; dispossession of land, which forces people to migrate against their will; increase in social problems, such as violence; and escalating numbers of physical and mental illnesses, to name a few. Furthermore, this model has been found to neglect other important aspects of well-being that go beyond economic growth, such as dignity, justice, and equality. All of this has shown the need to redefine well-being. 
For Erika and Xavier, this new way of defining well-being should distance itself from the Development Model. Instead, they consider that we need to create novel understandings of well-being that address multiple aspects of life –such as quality of life, care for nature, and integration of different knowledges, including those related to health – in innovative ways. According to these experts, doing so could allow us to move towards healthier and more wholesome societies. 
Many of us who participated in the creation of this series of feature stories agree with Erika and Xavier. Like them, we believe that there is a need to reconsider how we define the concept of well-being, and we think that we should challenge the idea that we can only achieve it through economic growth and technological advancement. As expressed by Cristina, Killari, and Nuna Sisari, we consider that to reach this new standpoint, it is crucial to pay close attention to what ancestral Peoples and Nationalities in Ecuador and across the globe have to say. 
"We need to start by questioning the idea of development as superiority. We need to generate spaces for communication so that the public understands that Indigenous Peoples are not folklore and that the ways of life that we lead in the countryside and different parts of Ecuador are not synonymous with backwardness or barbarity. This is not to say that we must romanticize the ideas of community and rurality. We must also problematize the discourse of the community as being only beautiful and magical because life in the countryside is also hard due to all the social inequalities that exist in rural areas. We must remember that there are also basic needs in rural areas that must be met – such as health, nutrition, and access to water – and we are taking several actions to fill these gaps. We as Indigenous Peoples have a lot to say about these issues as well, and it is important to take all these factors into consideration."
Cristina Cabezas, 22 years old, Kichwa woman
"Sometimes I feel that we, as Indigenous Peoples, are often seen as something nice to dance with and celebrate, exhibit in museums, and photograph a few times; nothing more. Instead, I believe that we should be viewed as an example to find solutions to world problems. We must return to the essence and sensitivity of Indigenous Peoples because we have so much to contribute." 
Killari Guamán
"They brainwash you so that you only have one mission: to always aim for more: more things, more computers, taller buildings, more money, always more money, but those things don't make you happy. If people began to understand the Runa/Indigenous philosophy, they would notice that in life, you don't need much to be well. Rather, life is about finding a balance that allows you to feel good with yourself and your surroundings while maintaining a strong connection with nature and all that lives in her."
Nuna Sisari, 22 years old, Kicwha Chibuelo woman  
(Click on the arrows to read more quotes)
The Concept of Health 
Like the concept of well-being, the definition of health has been contested, and it has changed over time. Although birth, pain, disease, and death are universal, we experience and explain them differently in each historical, political, geographical, and social context.
For example, in the article "What has been Understood by Health and Sickness?", Dr. Rubén Darío Gómez-Arias writes that the Magical-Religious Model is one of the theoretical approaches used to explain health and disease in the Western world, which was mostly present during the Middle Ages. This model considered that God caused sickness and that it was a purifying test or a punishment for the sins committed by the patient. Therefore, healing occurred through cults that sought to obtain God's forgiveness and demonstrate the patient's devotion.
This notion changed during the 19th century when the advancement of biology and the natural sciences influenced the development of modern Western medicine, also known as biomedicine. As its name implies, biomedicine focuses on the biological aspects of medicine. Influenced by the strong emphasis on reason and the individual perception of the human being of that time, this model considers that illness is caused by physiological, specific, and objective individual factors. In addition, this model conceives health as the absence of disease. As such, Xavier explains, the biomedical paradigm "consolidates an industrial, medical complex where health is solved individually, with medicines, and in hospitals. This leaves aside all other aspects affecting health, such as the social, political, and historical contexts, which are also fundamental factors." 
With time, this model became the dominant paradigm worldwide. However, it has not done so without contestation. Social medicine is one approach that offers a different understanding of health and illness. Social medicine proposes a critical analysis, and it takes into consideration the social, historical, and political determinants of health. In this way, it goes beyond the conception of health as the mere absence of disease.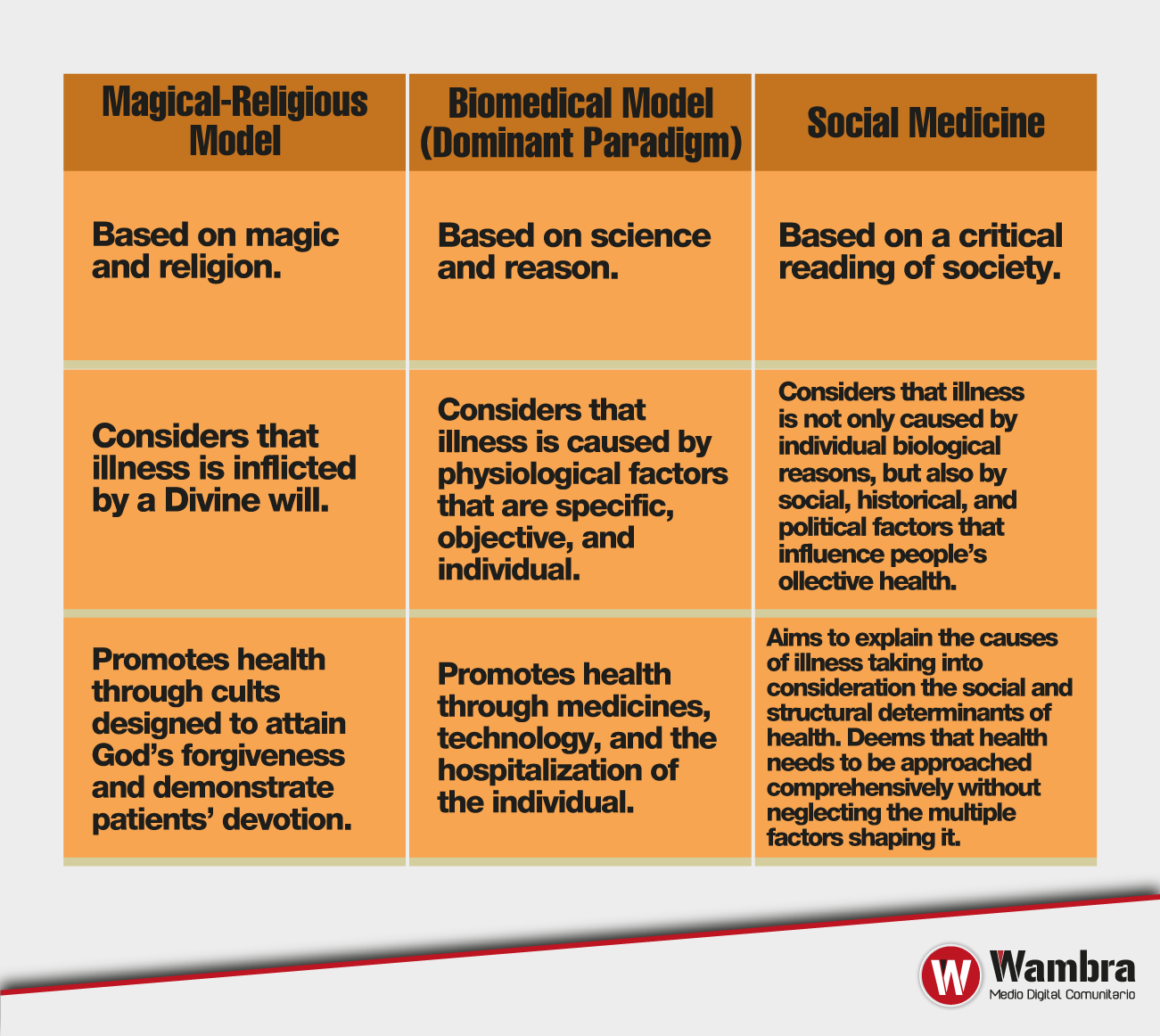 .
The Current Definition of Health 
The World Health Organization (WHO) currently defines health as «a state of complete physical, mental and social well-being and not merely the absence of disease or infirmity." This definition is helpful because it recognizes the multiple factors influencing health and acknowledges that being healthy requires more than not having pain. However, researchers and health workers in different settings have found some limitations to this definition. For example, one of the arguments presented by a team of experts in the BMJ scientific journal is that this description has not been modified since it came into force back in 1948. Yet, the world has indeed shifted since then, and this definition has not been adapted to reflect and respond to these changes.
For instance, the COVID-19 pandemic has demonstrated that the state of complete well-being stated in this definition may be difficult (if not impossible) to achieve in some circumstances. It has also shown that the meaning of well-being can change according to each context and from one person or group to another. «This definition of health is all and nothing at the same time because it does not respond to any specific reality," says Erika Arteaga. She adds that we need to create new descriptions and models that better respond to each context. 
Erika considers that the definitions and concepts that emerge from situated knowledge and specific historical and political contexts can provide us with better guidelines to understand what is important for each group at a determined moment in time, as well as which precise inequities affect health in each location, and what concrete actions can be taken to reduce or eliminate them. «These kinds of definitions can also help us understand that health is deeply related to the model of society that we want to build,» explains Erika, who considers that we cannot talk about health without addressing the structures and broader systems that influence it.
"We should not look at health as being separated from the social context. However, this is often the case. People come to the Amazon Region of Ecuador, where oil extraction has taken place, and they try to promote health by saying: 'Wash your hands to stay healthy'. Yet, they do not address the fact that the local water has been contaminated with oil and that this makes people sick," says Erika, who stresses that to achieve healthier populations, we must build healthier societies as well.
.
How to Find Alternatives?  
The Perspectives of Internal Migrant Women in Ecuador
Communication can play a fundamental role when articulating new ways of understanding and addressing well-being and health, as it can forge spaces to generate dialogue and share and disseminate different knowledge. However, Professor Mohan Dutta, Dean's Chair Professor of Communication and Director of the Center for Culture-Centered Approach to Research and Evaluation (CARE) at Massey University in New Zealand, emphasizes that to create truly innovative definitions and alternatives, we must listen to groups that have not always been heard before. One of such groups is women, especially women who come from minority and marginalized communities, as well as migrants.
"Words can heal. At least in my case, poetry has healed me. But in fact, all kinds of words can heal us, not only the poetic and literary ones, such as music and sounds, but also the words we use in our everyday lives. People who do not know about our personal experiences often perceive us as something strange, incomplete, and lesser than them. However, if we manage to make them understand our story and everything that we carry deep inside us through words, they may stop putting our humanness in doubt."
Yanay Lucila Lema, 47 years old, Otavalo woman
"I want a different world. I want a world where I can live in harmony, happy, healthy, and safe. I want a world where no one believes they are superior to anyone else, a world without stereotypes that recognizes my humanity and existence as whole. I want my voice to no longer be considered of less value than the voice of others just because I am Black, and I am a woman." 
Daniela Churos (Britany Muñoz), 19 years old
Afro-Ecuadorian feminist teenager 
(Click on the arrows to read more quotes)
Social researchers from different disciplines have identified that, historically, Western medicine has not considered women's experiences to the same extent as those of men. For example, in her book "Medicine as Culture: Illness, Disease and the Body," the sociologist Deborah Lupton explains that the male body has tended to be treated as the norm in both medical discourse and the practice of biomedicine.
This approach has led to less research, and therefore, to a slower recognition of some of the diseases that affect primarily women and an inferior understanding of how certain conditions and contexts can impact different bodies in unique ways. Other authors studying the reasons for gender-related health inequities have also found that less space has been given to women to express how they feel about their health and bodies, and what they need to feel better.
For this reason, Dr. Virginia Gómez de la Torre, director of the Desafío Foundation in Ecuador, considers that it is essential that women's voices are heard equally. She adds that learning from different experiences and perspectives of diverse women could be a starting point to make the necessary changes to approach health in a better way. This could also help reach improved health outcomes in different settings and among various groups, including, but not exclusively, those comprised of women. 
"We as women are the daily agents of well-being and comprehensive health, and we have clear plans for what needs to be done. From different feminist perspectives, we have coordinated concrete political actions to promote peace and equality, which strive for structural changes that allow all of us, and not only women, to live happily and to have equal access to resources."  
Dr. Virginia Gómez de la Torre 
Director of the Desafío Foundation in Ecuador
Soledad Álvarez Velasco, a postdoctoral researcher at the University of Houston, explains that migrant women can face even more barriers when aiming to express their experiences and needs, as they often encounter pronounced challenges throughout the migration process, such as violence and health issues that specifically or mainly affect them. Soledad adds that there has also been a feminization of migration, as women migrate more and more. The social roles assigned to women also influence their health during the migration process. The social and economic responsibility and the stress that comes with it often falls on them,  affecting their physical and mental health in different ways.
Cheryl Martens, professor and coordinator of the Sociology Department at San Francisco de Quito University in Ecuador, explains that, quite often, these axes cross various aspects of the lives of migrant women. «These issues tend to be viewed as isolated, but in reality, they are interconnected factors that have a great impact on people's well-being and overall health.» 
María Elena Enríquez, a consultant specializing in governance and local development, explains that Ecuador has intense migration patterns, including internal migration. The International Organization for Migration (IOM) defines internal migration as the "movement of people within a State involving the establishment of a new temporary or permanent residence." Quito is one of the main host cities for internal migration in Ecuador. In fact, according to the last census of 2011, over 35% of its population is made up of people who migrated to the capital city from other parts of the country.
David Romo, director of Delfos: Oficina de Acompañamiento Estudiantil and of the Ethnic Diversity Program at San Francisco de Quito University, considers that learning from the diverse perspectives of people who migrate to the capital city could significantly contribute to the country as a whole. However, he identifies some social aspects that prevent this from happening. One of the challenges that he recognizes is the lack of timely implementation of intercultural and plurinational policies and practices that adequately embrace the great array of languages, knowledges, and cultures of the various ancestral Peoples and Nationalities that comprise Ecuador. He explains that this absence results in internal migrants in Quito having to face violence, racism, discrimination, and language barriers in their daily lives, which hinder the possibility for their experiences and perspectives to be heard and considered. 
Giulianna Zambrano, also a researcher and professor at San Francisco de Quito University, emphasizes that listening to the experiences of internal migrant women in Ecuador could help find ways to better respond to the difficulties they face. She adds that learning from the different perspectives that migrant people bring could open new avenues towards much-needed social and structural changes in the country. 
Yet, Giulianna explains that this is not how migration tends to be addressed. "The existing discourse often talks about migration as a crisis and approaches this subject matter from a perspective that criminalizes migration, and there is so much that remains unspoken. There is so much to say, for example, about migrants' own experiences, solidarity in migration processes, the right to migrate, and all the contributions migrants bring to destination settings. However, most existing media outlets mention almost nothing about these topics."
She also considers that existing narratives often re-victimize migrants and that this must change. "We need to create spaces from where people can tell their stories from their own perspectives. We must problematize how we tell stories to such an extent that the way in which we tell stories becomes an act of resistance in itself," says Giulianna.
Those of us who participated in the creation of this series agree with Giulianna. Like her, we know that forging spaces from where we can share our own stories on our own terms is vital, especially given the absence of such opportunities in most existing platforms. 
"Through photography, I want to show that there are Indigenous Peoples living in the city and that there are many complexities in our identity. Indigenous Peoples were erased from photos and postcards of Quito because it was considered that we did not fit with the aesthetics of the idea of the capital city they wanted to create. There was the purpose of removing Indigenous People from the scenario of Quito that they wanted to build, even though much of Quito's architecture was built by Indigenous Peoples, but they were relegated to anonymity. I think that this contributed to create the current notion that there are no Indigenous Peoples in the city. The belief that Indigenous Peoples only are present in the countryside was built in this way, but this is not true at all. This undermines my voice as an Indigenous woman who lives in the city, but I do not think that their voice should be strong enough to silence my own voice, which I can use to tell my own stories from my own point of view."
Sara Fuentes, 23 years old
"We must continue to create spaces from where the diverse Indigenous groups in Ecuador, such as the Kichwa Peoples in Quito, become more visible. Many people, even those born and raised in Ecuador, do not even know that different ancestral Peoples and Nationalities live in the capital city and throughout the country."
Cristina Cabezas, 22 years old, Kichwa woman
"We have not only been denied a physical space to have a decent life. We have been denied a history and a sense of belonging as well. Black Peoples of Ecuador have been rendered invisible, along with our history, our customs, our contributions. We do not find ourselves reflected in the news. If the media talks about Black People for some reason, the story is always framed negatively. Mainstream media does not make the struggles of the communities or the efforts of the Afro-Ecuadorian neighborhoods in Quito visible at all. It is incredibly challenging to live in this constant denial of our existence. 
Communication is essential in this regard, and not only academic or formal communication, but also that which emerges from the struggles of our communities; those struggles that have not been seen, those struggles that have been hidden and that must be told, those struggles that we must vindicate from our own spaces, which are the result of our own collective feelings and ways of being. We must bring our voices together so that we can get to know each other, so that we can understand each other, so that we can fully meet one another, so that we can identify and articulate our efforts, and so that we can string together ties to converge."
Jaqueline Gallegos
"Sometimes, even your Indigenous fellows tell you that you are not Indigenous or Runa because you do not wear the traditional clothing, you do not speak the Kichwa language, or you live in the city. They believe that they have the power and the right to define your identity based on these terms. They judge you without knowing that perhaps you do not speak the language because of the migratory processes in which many young people have been involved. I don't accept that someone may want to take away from me the right to self-identify just because I do not look or think like them. 
We as Indigenous youths in the city have other ways to define our identity; we have other elements that don't necessarily have to respond to the notions of some members of the different communities, who define their identity solely based on cultural factors (clothing, language, territory). I think it is more relevant to understand yourself, accept yourself, and love yourself and your roots and, from there, strengthen your identity through other mediums, such as art, for example.
There are many other processes and elements, such as consanguinity, that also define you as an Indigenous or Runa person. These cannot be denied or hidden just because you do not dress in traditional clothing or speak Kichwa. This is especially true since both language and clothing are inherited from processes of Inka and Spanish domination; they are not even purely native to the populations of Ecuador.
I know who I am, and no one can take that right away from me. I believe that peoples and cultures are not static. They go through renewal processes. It could be said that, to some extent, these renewal processes strengthen Indigenous identity and culture because we are not pieces in museums, and no one can put you in a box or tell you what you can or cannot be."
Tatiana Guamán, 32 years old, Kichwa Puruwá woman
"They say that they teach us world history and literature, but it is not really universal because it does not include the history and literature of all Peoples. The world is much bigger, much more diverse, but they do not tell you that. How are you going to value something that you don't even know exists?"
Yanay Lucila Lema, 47 years old, Otavalo woman
"I am a strong woman. Nothing stands a chance against me anymore. Discrimination doesn't stand a chance; racism doesn't stand a chance against me. We are excluded from some spaces, but it doesn't matter; we create others.
I wouldn't be allowed to appear with my Afro hair on mainstream television, but I can be in other spaces that are much better, and they are better because there I feel validated for my way of thinking and the work that I do with communities. When I am with people from the social movements I belong to, I feel they are spaces for me. They are safe spaces where I can say, do, and suggest anything. They are spaces where I feel stronger and more powerful than ever."
Marisol Zova, Afro-Ecuadorian journalist
"I like poetry because it is like a word for the soul; it is like having something sweet and bitter at the same time. There are words that sweeten and transport you towards the pleasure of happiness, and there are others that reopen the wounds you have and hurt you. There are also words that lead you to healing because they make you reflect and help you let go; words that make people shed their tears or start thinking differently. Words are a mighty weapon when it comes to defending human rights and the rights of communities. I use them a lot in that sense. I use them to transmit knowledge. I use them as a medium for saying: 'Your actions hurt me, as it hurts me that you don't reflect and you don't change.'"
Irma Bautista Nazareno 
Coordinadora Nacional de Organizaciones de Mujeres Negras (CONAMUNE)
"Sometimes, people have so many feelings imprisoned, and the soul screams inside. I am quite a shy and reserved person, and writing has been one of the best ways to heal myself. Many young people don't like to read, but being 20 years old, I love books, poetry, and public speaking. I have learned that poetry can be used for social critique and demand for equality, and to change certain aspects of life. I want to use poetry to talk about many situations, such as violence against women and the vindication of cultures. Sometimes, we see injustices and are outraged for not being able to do anything, but we can try to promote change through words."
María Belén, 20 years old, ethical and feminist person

Irma Bautista Nazareno 
Coordinadora Nacional de Organizaciones de Mujeres Negras (CONAMUNE) 
(Click on the arrows to read more quotes)
It is from this deep desire to transform how others talk (or not) about diverse women in Quito that we share our experiences of well-being, health, and life in the following articles of this series.
"Sometimes I feel that other people want to speak for us, and I neither like nor agree with that because I don't see myself represented in their words. I want a world that listens to my own voice and allows me to speak for myself. I want a world that lets me be who I am."
Tatiana Guamán, 32 years old, Kichwa Puruwá woman